(Varmistuslukko- ja) opastinturvalaitos, eli "pakki"
(Switch lock and) signal safety apparatus, or the "Pack"
---
FREMO-radalle tarvitaan tulo-opastimia. Tässä on yksi tapa jälkiasentaa tulo-opastimien ohjaus mille tahansa FREMO-asemalle
A FREMO layout needs home signals to assist train control. Here is one way of adding signals to any FREMO station.
---
Siuntion Mekaaninen Verstas (SMV) on kehittänyt FREMO-käyttöön sopivaa yksinkertaista opastinturvalaitosta. Ajatus perustuu suomalaiseen köyhän miehen asetinlaitteeseen, Varmistuslukko- ja opastinturvalaitokseen, eli ns. "pakkiin".
Järjestelmään kuuluu opastimet, junailmaisimet, vaihdeilmaisimet, ohjauspakki ja tarvittavat näyttelyssä asennettavat kaapelit.
Siuntio Mechanical Workshop (SMV) has developed a simple add-on signal control system. Our design is based on finnish poor man's signal box, "Switch lock and signal safety apparatus" nicknamed the "Pack". Signalling system deployed is Finnish Epoch III/IV system where distant signal has blinking aspect that in this system of ours requires a separate common wire. However, a regular six-conductor Loconet style cable is adequate in daisy-chain arrangement where aspect wires are shared between main and distant signals - leaving one wire free for future use.
The system consists of signals, track sensors, turnout sensors, the pack and necessary cabling.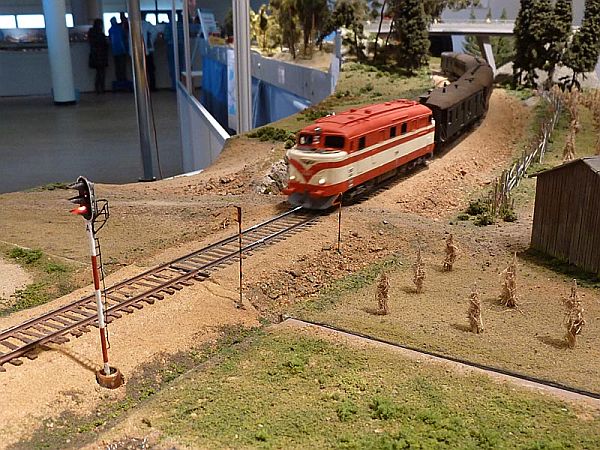 Tulo-opastimien avulla liikenteen ohjaus on helpompaa. Tulo-opastimet asennetaan moduuleihin kiinnitettyihin sokkeliputkiin. Sokkeliputki on 10 mm kupariputkea joka on asennettu ratapenkan sivuun, putken keskilinja on vähintään 40 mm etäisyydellä raiteen keskilinjasta. Sokkeliputkessa on pieni lovi, jonka avulla opastimessa oleva kohdistustappi ohjaa opastimen näkemäsuuntaan. Opastin asennetaan asemalta lukien toisen moduulin aseman puoleiseen päähän.
Tarkoitus on että kaikkiin FREMO-FIN-moduuleihin asennettaisiin sokkeliputket, jolloin opastimien ja rautatien liikennemerkkien asennus helpottuu ja nopeutuu.
Tube installation in picture above is an arbitrary setup, in final position the socket is set deeper and made to fit the scenery. Home and advance home signals are installed into signal socket tubes attached to the ends of ordinary modules. The tube is 10 mm copper tubing, the centre line is at least 40 mm from the track centre. The tube has a small notch that guides the signal to show towards the approaching train. Original FREMO uses "Wattenscheider" pits which are huge and expensive to install to every module. Two 5 cm lengths of 10 mm copper tube in 10 mm dia hole is much quicker and cheaper. Should we later wish to have semaphore signals I trust coaxial tubes or whatnot to connect signal mechanism through the 8 mm hole should not be an impossible engineering challenge. (see link below for an excample in N scale)
Järjestelmän periaatekaavio. Ohjauspurkkiin voidaan liittää tulo-opastimet, tulo-opastinten esiopastimet, raidevirtapiirit ja vaihteiden asennonilmaisimet.
System diagram: The "Pack", home signals, distant signals, track occupancy detectors and turnout position detectors and cables.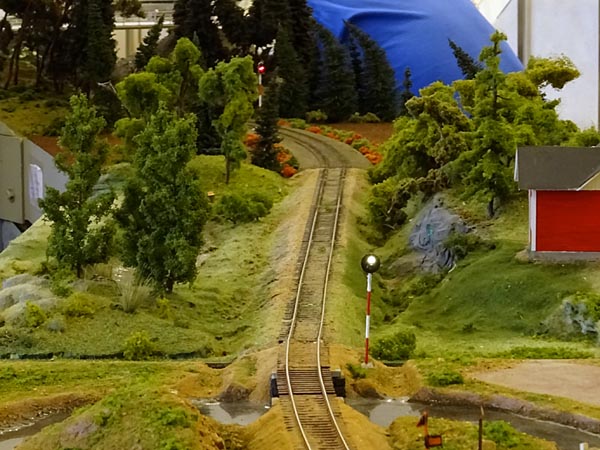 Jos useammassa moduulissa on opastinputkia, saadaan myös esiopastimet asennettua helposti.
When more and more modules are equipped with signal tubes also distant signals are easily placed on the layout.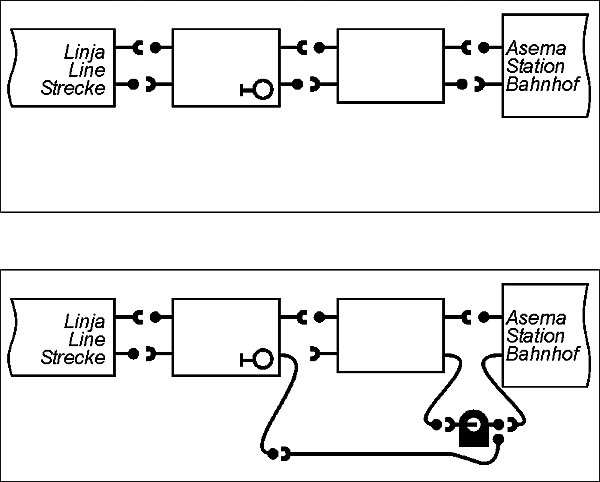 Asemasta lukien ensimmäinen moduuli saa sähkönsä raiteen vapaanaoloilmaisimen kautta. Ilmaisimessa on virtamuuntaja, jolloin opastinjärjestemä on ajovirrasta galvaanisesti erotettu.
To automatically reset the signals the first line module (between station module and the module having the home signal) will get DCC power through a current sensor. The sensor works through current trnsformer, thus there is no galvanic connection between DCC and signaling system.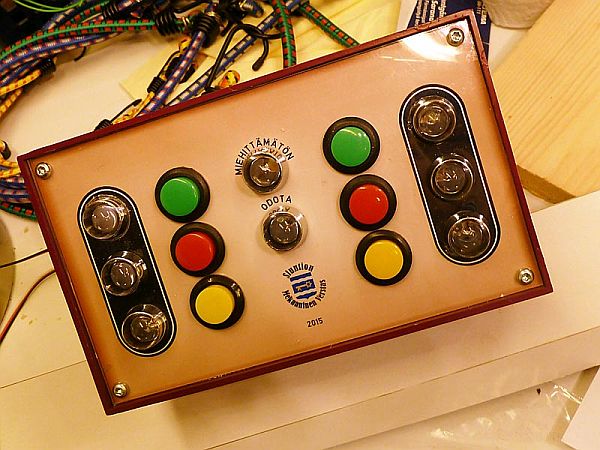 Ohjauspaneelissa on painikkeet aseman molempien päiden tulo-opastimien ohjaamiseksi. Koska järjestelmä on tarkoitettu ajotapahtumassa väliaikaisesti jälkiasennettavaksi ei siinä voi helposti olla vaihteiden lukitusta. vaihteen asennon tunistaminen voidaan tehdä mittaamalla optoerottimien avulla tulovaihteen risteyksen jännitettä kulkukiskoihin.
The "Pack" has buttons for setting the home signals. As this sytem is intended to be temporarily fitted to a module it cannot lock the turnouts. The turnout position will be sensed with opto-couplers connected between turnout crossing feeder wire (alligator clip) and stock rails (main DCC feed).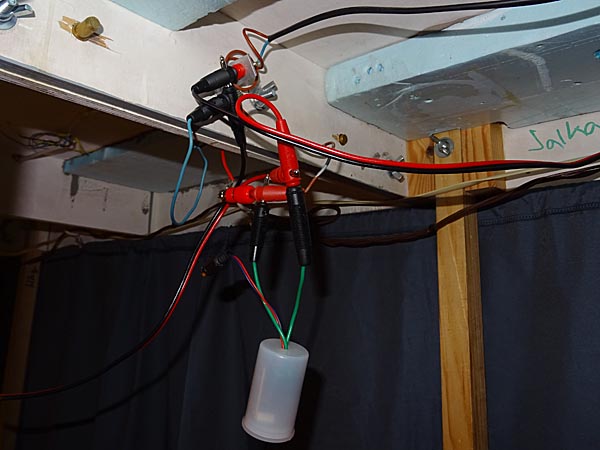 Pitkät ohituskaapelit sidotaan turvallisuussyistä esimerkiksi muovitetulla sidontalangalla radan runkoon tai muuhun kaapelointiin.
Kuvassa molempien kiskojen johtimet on katkaistu ja viety parikaapelilla, jolloin kiskojen syöttövirta kulkee lähekkäin eikä DCC-signaaliin tule häiriötä. Siksi liitäntäpiste aseman päädyssä muistuttaa "banaaniviljelmää".
For safety reasons the long DCC bypassing cables with male banana plugs will be mechanically connected to module frame or other wiring with plastic coated wire ties. In this photo the wires will bridge both rail wires, and we had only one sensor, so the other sensing module at the other end of the station was also tied to this only sensor, hence the station module end here looks like a banana plantation.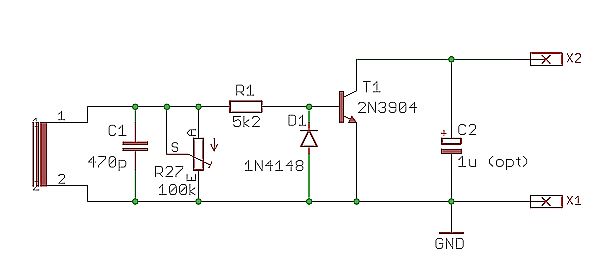 Meidän ilmaisimessa on yhdistetty FREMOn Reinhard Müllerin yksinkertaiseen kytkentään Teton Short Linen Wayne Roderickin ajatus kelan ja kondensaattorin LC-piirin virittämisestä DCC-taajuudelle. Testi-ilmaisimessa on vääränlainen muuntaja. AS-104 kannattaa korvata AS-100-muuntajalla ja laskea kondensaattorin C1 kapasitanssi uudelleen (AS-104 impedanssi on 700 mH, AS-100 impedanssi on 6 mH, -> n. 50 nF)
Our current detectors are based on FREMO's Reinhard Müller's detector that was modified following the Teton Short Line's Wayne Roderick's idea of a tuned LC circuit. The test sensor had AS-104 transformer, thus multiple turns of primary coil was needed. Better to use the AS-100 transformers. Due to different inductance the capacitor value C1 must be around 50 nF with AS-100 transformer (AS-104: 700mH, As-100: 6 mH).
---
Linkkejä
Varmistuslukko- ja opastinturvalaitos
[Wikipedia]
Inductive Current Sensor
[Reinhard Müller]
Occupancy detector on the Teton Short Line
[Wayne Roderick, Archive.org] (katso "Detector #5")
Talema AS transformer data sheet
[Talemagroup]
Removable signals
[fs160.eu, Henk Oversloot]