Sektorivaihde, katkokiskovaihde tai liukuvaihde
Schleppweiche / Stub turnout
---
Tämä on SMV:n Kirjavan liikennepaikan protyyypi, joka rakennettiin 2008-2010 ja jolla tutkittiin ajatusta katko- tai liukukiskovaihteesta. Ajatus perustuu saksalaisten FREMO-piipolihojen scleppweiche-ratkaisuihin (esim. M. Maleis'n Schattenbach) sillä erotuksella että tässä raide liikkuu lineaarisesti eikä säteittäisesti. Säteittäisessä järjestelmässä kahdella raiteella olisi pitänyt olla yhteinen keskipiste, ja se vaikutti hankalalta.

This is a test prototype for Kirjava fiddle yard stub turnout. It is based on "schleppweiche" idea, so popular in german FREMO groups, e.g Fiddleyard Schattenbach by M. Maleis. The plan of having two parallel, yet separate turnouts for double track use needed linear movement as the two parallel systems could not easily have had a common central point from which the tracks could radiate. Hence the track end moves in linear way instead of radial way. The system is now in use at Siuntio mechanical workshop's (SMV) Kirjava fiddle yard, yet having only single track turnout
---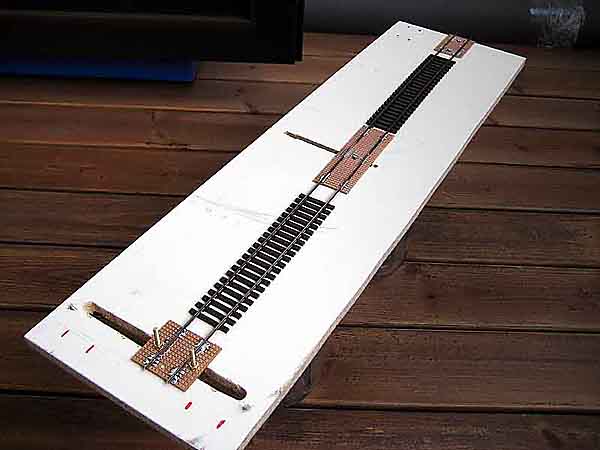 Small proto, only for about three tracks...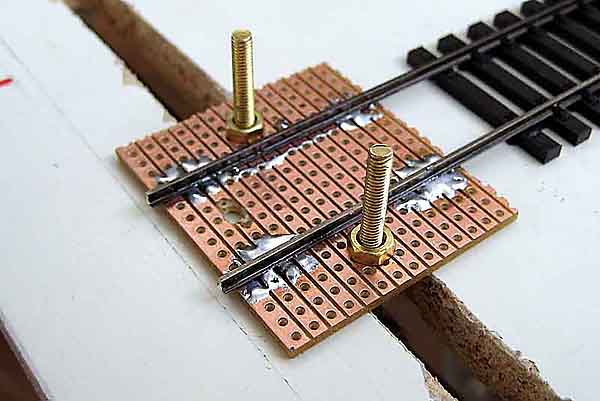 The moving end goes laterally (like traverser), not radially like normally...
The middle part has length adjustment and being rigd provides straight section of track between reversing curves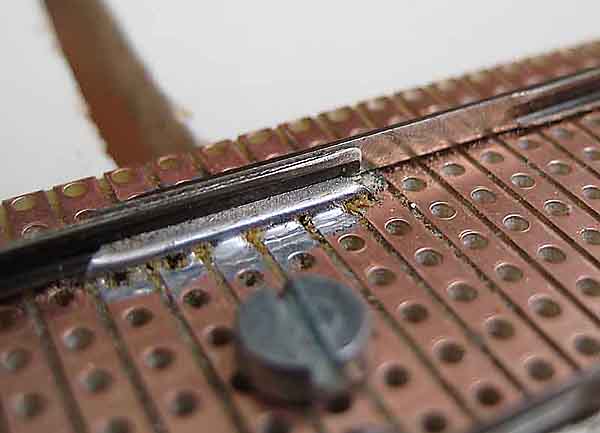 To avoid making fancy slides, I used Peco code 100 rail joiners, and Tillig Elite Code 83 flex and filed the rail profile into a splice joint. As the moving end moves laterally and not radially the length change of the flex is reduced. ..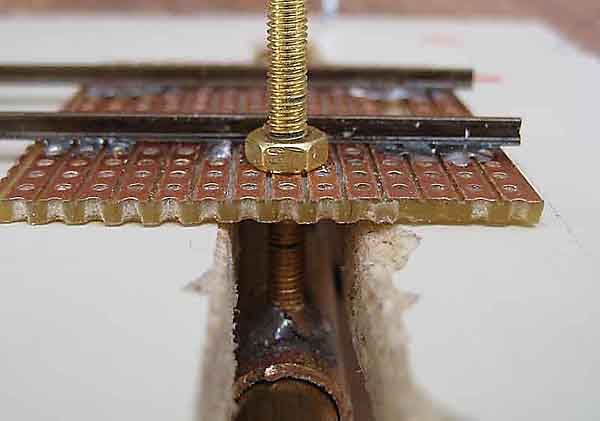 The lateral movement is by 8mm brass bar and matching tube and screws soleded to the tube (Bauhaus stuff)...
Flex demo [YouTube] Movement -- manual and stepper from an old printer, operated with Arduino.
---
---
2353 kävijää/visitors
© 2008-2018 FREMO-FIN Viimeksi päivitetty / last modified (none). Created with Notepad.
Text, drawings and photos are protected by copyright laws. Technical solutions, methods and source code are public domain only for non commercial purpose. All development has been carried out during our free time, mainly funded from our own pocket and with non selfish goals, so the use of this material for profitable use (including construction for a friend aginst a fee) is forbidden without written permit from us. The pages contain errors, so, if you use the data given, you do so at your own risk and responsibility. If you further develop material found on these pages you must put it on display without fee e.g. to a freely available web page. We expect a note about this also.
Pages tested with W3C validator -- didn't look good ;)

Tekstit, kuvat ja piirokset ovat tekijänoikeuslain suojaamia. Tekniset ratkaisut, menetelmät ja lähdekoodit ovat vapaasti kopioitavissa ja hyödynnettävissä ei-kaupallisissa tarkoituksissa. Kaikki kehitystyö on tehty vapaa-aikana ja pääosin henkilökohtaisilla varoilla eikä hyötymistarkoituksessa, siksi materiaalin käyttö hyötymistarkoituksiin (sisältäen kaverille rahasta rakentamisen!) on kielletty ilman kirjallista lupaa! Sivuilla esiintyy virheitä. Jos käytät sivujen tietoja hyväksesi, teet sen täysin omalla vastuullasi. Mikäli kehität sivuilla esiettyjä ajatuksia kytkentäkaavioita tai koodia edelleen, on sinun asetettava se maksutta kaikkien saataville esimerkiksi Internetiin. Odotamme vastavuoroisesti tietoa suoritetusta edelleenkehitystyöstä.
Sivut testattu W3C validatorilla -- ei hyvältä näytä :)
---