Skaalakello — Fast time clock
---
Sivukello Clas Ohlsonin kvartsikellosta. Skaalakello-nimitys on harhaanjohtava, sillä aikaa ei voi skaalata. Englanninkielisissä teksteissä on siirrytty käyttämään termiä "Fast time clock".
Haluttaessa ajaa pienoisrautatietä aikataulun mukaan joudutaan usein hullunkurisiin tilanteisiin, kun juna lähtee edelliseltä asemalta ja saapuu seuraavalle saman minuutin aikana. Skaalakellon avulla ajoaikaa voidaan näennäisesti pidentää. Jos ajoaika asemalta toiselle kestää vaikkapa 30 sekuntia niin ajoaika muuttuu kolmeksi minuutiksi, jos kello joka käy minuutin esimerkiksi 10 sekunnissa. Jos minuutin kesto on viisi sekuntia, kestää ajo asemalta toiselle jo 6 minuuttia.
Käytettäessä sivukelloja olisi suotavaa ettei kellon minuuttiosoitin nytkähdä useaa kertaa kelloa vilkaistaessa tai ettei minuuttiosoitin muutenkaan etene silmin havaittavan lujaa. Siksi ei käyntisuhdetta ei yleensä nosteta kovin korkeaksi.
Yleensä kvarstikelloista tehdään skaalakelloja poistamalla ohjauselektroniikka ja "ylikellottamalla" kellon moottoria.
Tässä versiossa sekuntiosoittimen ja minuuttiosoittimen välinen hammaspyörä on poistettu ja sekuntiosoitin on kytketty suoraan minuuttiosoittimeen. Nyt moottoria voidan ohjata minuuttipulsseilla (syöttöjännitteen napaisuus vaihtuu joka minuutti).
FREMO-radoilla käytetään keskieuroopassa oikeita sivukelloja, mutta niiden saaminen ilmaisesti tai ainakin edullisesti Suomesta on hankalaa. Sivukelloja käytetään yleensä 12/24V jännitteellä, joten kvartsikellon moottorin yli jäävä jännite joudutaan rajoittamaan -- tässä se on tehty diodien ja etuvastuksen avulla.
Alla esitetyn kellon valitsin siksi että se on yleisesti helposti saatavilla, kohtuuhintainen (4,50 EUR keväällä 2009) ja koska siinä on metalliset osoittimet joita on helppo taivuttaa ja näin tehdä kytkentä sekunti- ja minuuttiosoittimen välille. Lisäksi kellon takana oleva säätönuppi toimii myös muutosten jälkeen.
---
Fast time clock from Clas Ohlson quartz clock. In Finland we tend to use somewhat misleading term "Scale clock". It is misleading as time is not scalable. English literature uses more accurate term "fast time clock".
When wanting to drive model railway according to a timetable one may run into odd situation when the train departs on the same minute as it arrives to next station. Using fast time clock one may make the journey from one station to the next seem longer. A trip of 30 seconds between stations will turn out to take 3 minutes if the clock moves one minute in 10 real seconds. If one fast minute takes 5 seconds the drive will take 6 minutes. The most popular ratio here seems to be one minute in 6 real seconds.
One usually uses fairly slow fast time with side clocks (nebenuhr) that nudge one minute at a time. It would be rather annoying if one would see the minutes hand move twice while looking at the time. If the minutes hand is moving continuously it would be nice that the minutes hand would move slow enough so that fast movement of the minutes hand would not be obvious.
Often quartz clocks are made into fast time clocks by removing the original oscillator and "overclocking" the clock "motor".
In this version the gearwheel between seconds and minutes hand is removed, and the seconds and minutes hands are tied together. Now the minutes hand is directly driven by the original motor that is clocked with external oscillator. A change of polarity will advance the clock by one minute.
FREMO layouts in central Europe use real side clocks but getting them for free or cheaply seems to be a problem here in Finland. The side clocks usually operate at 12/24 volts, so using a quartz clock one needs to reduce the voltage to a safe limit — here it was done by the use of diodes and shunt resistor. This way the quartz clock is compatible with real side clocks, and can be connected to the same line with real side clocks.
I choose the Clas Ohlson clock because it was readily available, reasonably priced (4.50€ in spring 2009), it had metal hands that were easy to bend to make the connection, and the adjustmnent knob behind worked even after modification.
---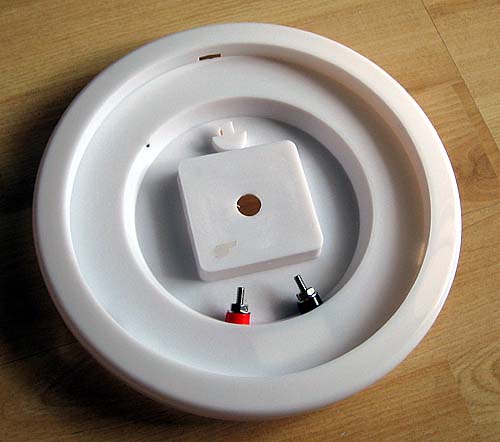 Clas Ohlsonin Kello (31-3750) on purettu ja kellon runkoon on kiinnitetty naparuuvit. Kellon lasin sain irti kun työnsin varovasti ruuvimeisselin hieman klo 12 kohdan viereen läpinäkyvän "lasin" ja valkoisen muovikuoren väliin.
Clas Ohlson clock (31-3750) is taken into pieces and screw terminals are fitted to clock housing. the plastic glass is easily removed by carefully pushing a small screwdriver between glass and housing at just past 12 o'clock.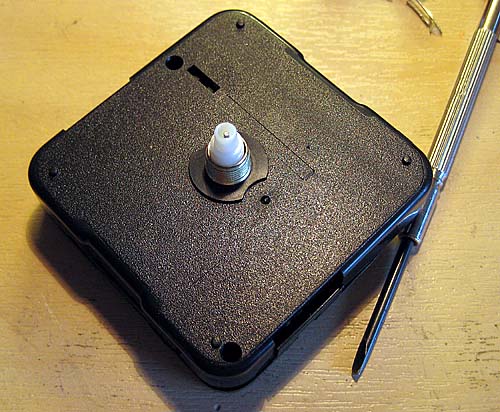 Koneiston purkaminen on alkanut. Koneisto on koottu kahdella sivuilla olevilla klipsillä ja pariston luona näkyvällä kolmannella klipsillä. Ruuvimeiselilä varovasti auttaen klipsit saa käännettyä sivuun ja kuoren raolleen. Käänsin koneiston akseli alaspäin tinarullan päälle ja otin takakannen pois.
Dismantling of the mechanism has started. The mechanism is held together with two clips on the side and one at the battery compartment. With a small screwdriver the clips may be twisted open just enough to allow the halves of the housing to be taken apart. The mechanism without back cover is placed hand's axle down on a solder roll.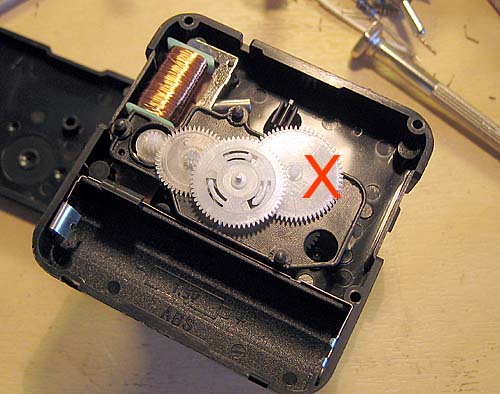 Seuraavaksi nostin välityspyörästön varovasti pois (musta apukehys). Kuvan oikeanpuoleisin hammaspyörä on se joka kytkee minuuttiosoittimen sekuntiosoittimeen, ja sen siis poistin.
Next I removed the transmission away (small subframe). The rightmost gearwheel is the one that connects seconds hand to minutes hand. It was discarded.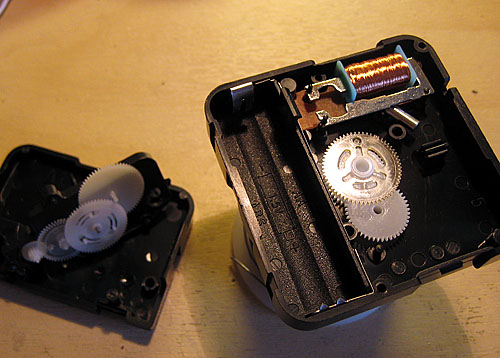 Nyt pääsee moottorin kelaan ja elektroniikkaan käsiksi, ne nostin seuraavaksi pöydälle.
Now I had access to the motor coil and electronics. I lifted them on the table.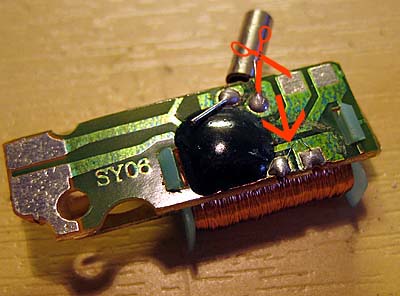 Kuvassa piirilevyn alaoikeassa kulmassa on moottorin kelan liitospisteet.
At the bottom right of the printed circuit board (or hybrid board) are the connecting points for the motor coil.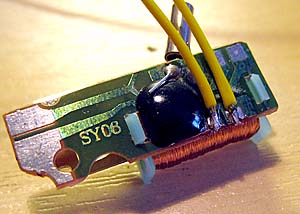 Katkaisin toiseen liitospisteeseen menevän pirilevyn folion ja juotin esitinatut johtimet samoihin juotoskohtiin joissa kelan päät ovat kiinni.
I cut the foil of other coil terminal so that the electronics is disconnected and soldered pretinned leads on the coil terminals.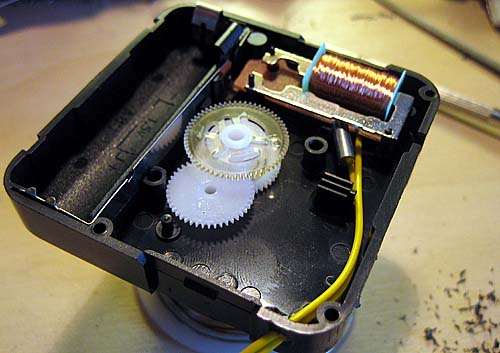 Porasin reijän koneiston kylkeen, palautin moottorin paikoilleen ja vedin johdot ulos reijästä...
I drilled a hole to the side of the housing returned the motor assembly into housing and pulled the wires through the hole...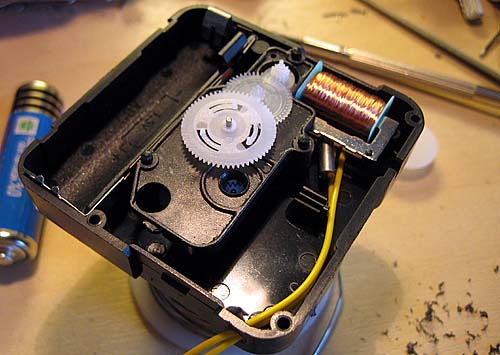 Asetin välityspyörästön takaisin paikoilleen mutta otin kuvassa jo poistetun sekunti- ja minuuttiosoittimen välisen hammaspyörän pois...
I then put the transmission system back into the clock housing without the marked gearwheel that connected the minutes and seconds hand...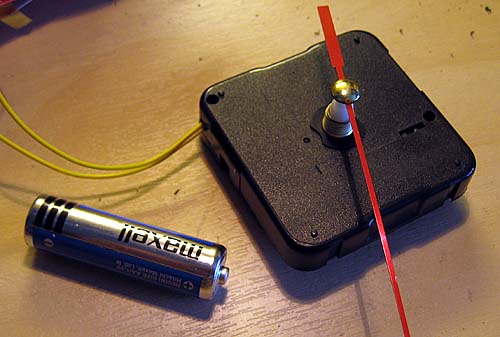 Asetin sekuntiosoittimen väliaikaisesti paikoilleen ja kokeilin paristolla että sekuntiosoitin etenee napaisuutta vaihtamalla...
After fitting the back cover of the housing I temporarily pushed the seconds hand in place and tested the mechanism with battery to see, that the hand moves at change of polarity...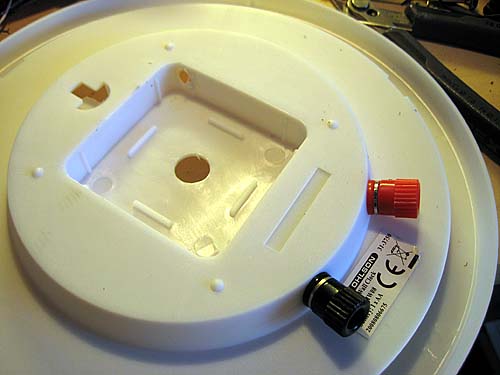 Porasin vielä kellon runkoon reijän johtimille.
Another hole was drilled to clock housing for the wires.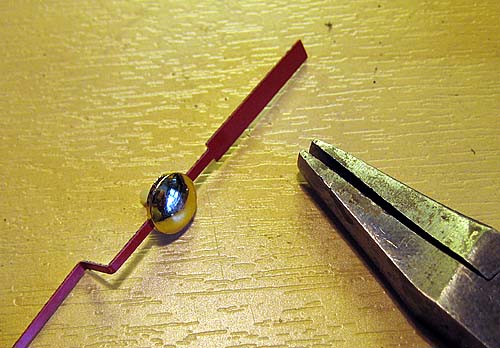 Taivutin sekuntiosoittimen Z-muotoon (osoiitimet ovat ohutta alumiinia eivätkä kestä turhan tiukkaa "pokkaamista")
I bent the seconds hand into Z-form. (the hands are of quite thin aluminium, and will not tolerate tight bending.)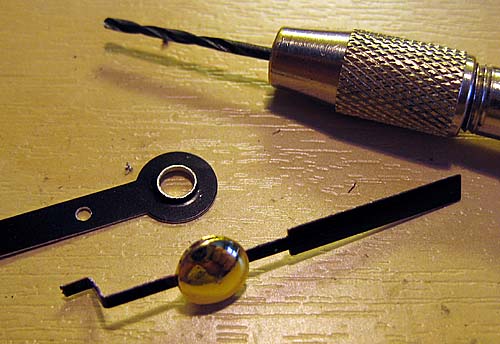 Porasin n. 1,5 mm reijän minuuttiosoittimeen jonka kautta pujotin sekuntiosoittimen katkaistun pään...
I drilled approx. 1.5 mm hole through the minutes arm and eased the bent end of seconds arm through the hole...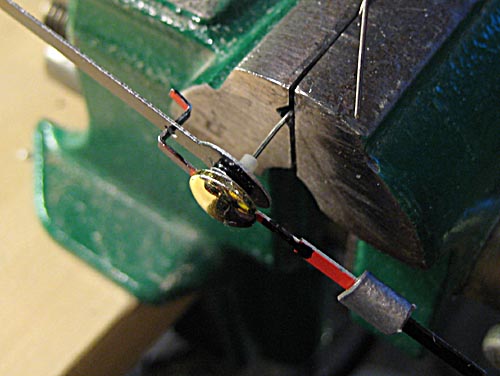 Vastapaino asetetaan niin että yhteenkytketty sekuntiosoitin ja minuuttiosoitin ovat tasapainossa.
A counterbalance is needed to make the combined minutes and seconds hand in balance.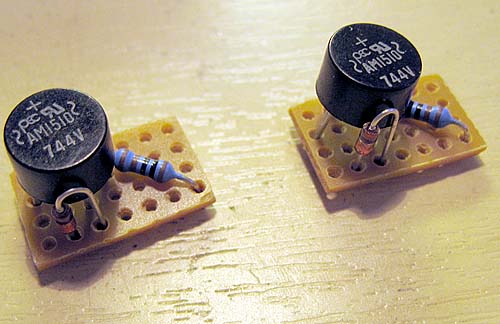 Moottorin kelan jännitettä rajoitettiin diodisillalla, jonka plus-ja miinus-kohtiot oli kytketty yhteen diodilla. Kuvan ottohetkellä plus- ja miinuskohtioiden välille panin vain yhden diodin. Lisäsin myöhemmin vielä yhden diodin sarjaan jolloin kelan yli vaikuttaa yhteensä neljän diodin jännitehäviötä vastaava jännite. Kello olisi vissiin toiminut pienemmälläkin jännitteellä, mutta en hölmöyksissäni erottanut elektroniikkaa alunperin moottorista kun en katkaisuut sitä foliota piirilevystä, ja se elektroniikka piti kelajännitteen alhaisena diodien lukumäärästä riippumatta.) pienemmälläkin jännitteellä toimii, ja palattiin takaisin diodisiltaan ja yhteen diodiin...
Motor coil voltage was limited with a diode bridge, that has the DC terminals connected together with a diode. At first I fitted two diodes in series to get enough voltage to operate the clock, but at the time I had not cut the foil between motor coil and original oscillator, so the original oscillator was consuming power...


	              +---|>|----+
	              |          |
	       +-|>|--+--|<|-+   |
	       |     (+)     |   |
	       |             |   |
	o------+(ac)     (ac)+----------WWWWW----o
	       |             |   |     1K 1/2W
	       |     (-)     |   |     
	       +-|<|--+--|>|-+   |
	       |      |      |   |
	       |      +----------+
	       |             |
	       |             |
	       +-----(M)-----+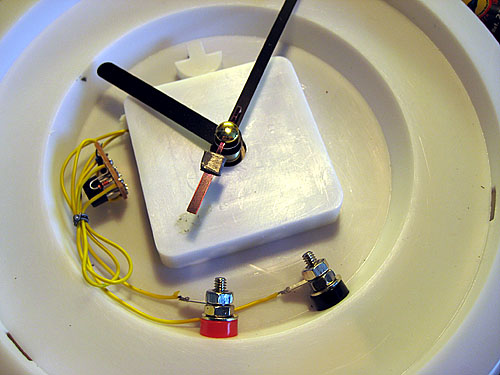 Sähkötyöt on tehty. Porasin jälkeenpäin diodipaketin kohdalle ison reijän, jonka kautta diodipaketin voi vetää ulos ja vaihtaa/korjata/virittää ilman että koko kelloa tarvitsee purkaa. Tässä kellossa sekuntiosoittimen vastapainona on lyijylevystä taivutettu "klunssi".
Electrical works completed. I did drill a big hole at the location of the diode packet so that it could be repaired or modified without removing the glass, hands and dial. here the lead counterweight is clearly visible.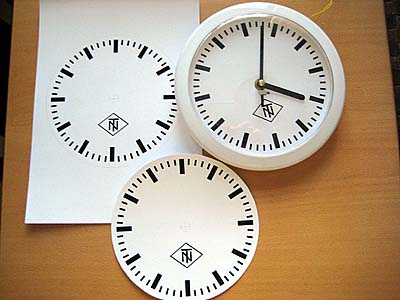 Kellotaulun halusin vaihtaa. Tulostin kartongille "Telefonbau- und Normalzeit" -kellon kellotaulun, leikkasin kokoon ja kiinnitin kaksipuoleisella teipillä kellon runkoon. Kelloon kannattaa panna virrat päälle sekuntiosoittimen asennuksen ajaksi ja asettaa osoittimet tasan kello 12 kohdalle. Näin kellon osoiitimet saa parhaiten tasaminuuteile, ja vielä niin että jos punaisessa liitinruuvissa on plussa on kello parillisilla minuuteilla.
I wanted to change the clock dial. I printed a "Telefonbau- und Normalzeit" dial on thin carton and fixed it using double sided sellotape. It is a good plan to connect the clock to a power supply while fitting the hands at 12 o'clock, as the motor will "stall" the mechanism and adjusting is easier. I set the hands to even minutes when the red marked terminal was connected to positive terminal of the power supply.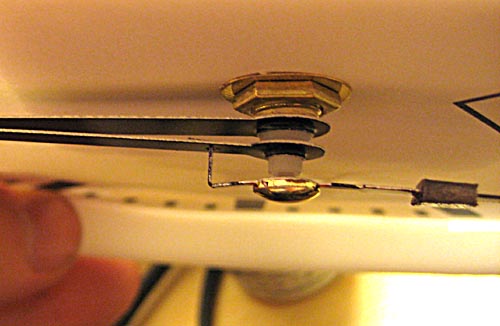 Katso että Z-muotoon taivutettu sekuntiosoittimen pää ja minuuttiosoitin ei osu missään tapauksessa tuntiosoittimeen.
Make sure that the Z-form hand will not touch the hours hand.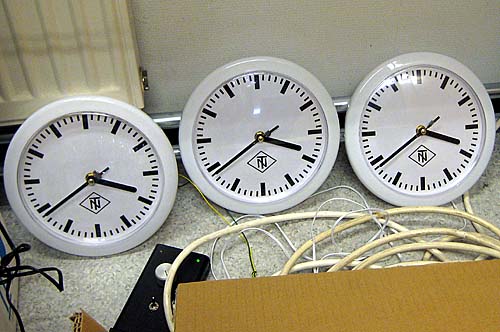 Kellot koekäytössä...
Clocks on a test run...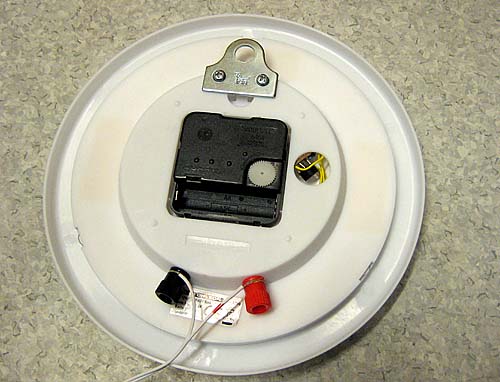 Tässä näkyy "huoltoaukko" ja uusi ripustuslenkki ...
here the maintenance hole and new hanging loop are wisible.
---
Postscript: Minuutti- ja sekuntiosoittimen kytkeminen näin monimutkaisen väljästi yhteen ei ole välttämättä tarpeellista. Akselit voidaan liimata esimerkiksi silikonilla osoittimien navasta yhteen. Pelkäsin, että mikäli liimauksen jälkeen akselit eivät olisikaan täysin koaksiaalisia, saattaisi liimaus aiheuttaa jännityksiä, ja estää kelloa toimimasta. Meillä on käytössä myös kelloja joissa minuutti- ja sekuntiosoittimien akselit on liimattu navasta yhteen, eikä niiden käynnissä ole ongelmia.
Postscript: Connecting the minutes and seconds hand loosely together using such a complex method may not be neccesary. The axles can be glued together at the hub. I was afraid that what if, after glueing the axles, they were not completely co-axial? Would the possibe tension prevent the clock from working? We now also have clocks that have the axles glued together at the hub, and this is causing no broblems in operation.
---
Quick & dirty keskuskello — Quick & dirty central clock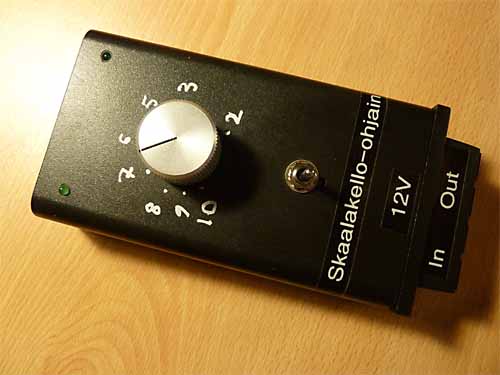 Skaalakellojen keskuskello. Säätimellä valitaan skaalaminuutin kesto (suurin piirtein). Kytkimellä käynnistetään ja pysäytetään kello, ja pikakelataan kelloa
Skaalakellon keskuskello on "quick & dirty"-juttu, jonka oli tarkoitus olla väliailkainen juttu, kunnes joku tekee prosessoriohjatun keskuskellon.
This is our central clock. The potentiometer "roughly" selects the clock speed ratio (how many seconds to a fast minute). the on-off(on) switch will start and stop the clocks and allow fast forward.
This central clock was a quick and dirty temporary thing assembled from what was found at the scrap box, while waiting for the processor driven chronometer :)
Kytkentäkaava — schematic diagram
Keskuskello toimii seuraavasti:
operaatiovahvistimesta on tehty oskillaattori, joka käyttää transistorin avulla relettä. Rele vaihtaa kellojen napaisuutta.
On-off-(on) -tyyppinen käyttökytkin, yhdessä asennossa (kytkimen pin 2-3) kello käy normaalisti, keskellä (kytkin irti) kello pysähtyy ja toisessa laidassa (kytkimen pinnit 2-1) kello käy nopeasti.
Kytkentäkaaviossa näkyy ikäänkuin ylimääräinen jännittenjakaja. Se on jippo joka vetää kondensaattorin jännitteen kevyesti kohti puoliväliä, kun kello seisoo. Näin varmistetaan että kello ei nytkähdä minuuttia eteenpäin kun kytkimen vie keskiasentoon.
The central clock works as follows:
Op-amp is working as an oscillator, which drives a relay through a transistor. the relay will switch the polarity of the clocks.
On-off-(on) or on-off-mom switch works like this: When pins 2 and 3 are connected the clocks will run at the speed set with the potentiometer R3. In the middle (all off) the clocks will halt and at other end (pins 2 and 1 connected) the clocks will fast forward.
There seems to be two voltage dividers on the schematic: I wanted the clocks to halt immediately after setting the switch into middle position. This was achieved wth a weak pull of the RC circuit capacitor into middle voltage. Thus no matter which phase the clock was on, it will stop immediately.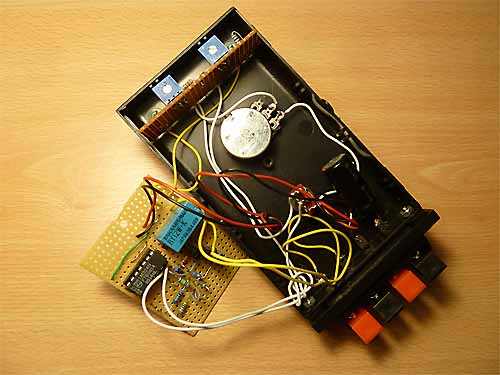 Skaalakellojen keskuskello sisältä. Ei mikään kaunis näky! Kuvassa erottuu maksiminoipeuden trimmerit (normaali käyttö ja pikakelaus), varsinainen nopeussäädin ja käyttökytkin. Vero-levyllä LM324-op-amp ja rele.
Inside the temporary central clock. Not a pretty sight! You can see the max speed trimmers, the speed control potentiometer and operating switch. the Vero board has the LM324 and the relay. Filtering capacitor (and diode aginst reverse voltage, not shown on the schematic!) is at the connector terminals.
---
(Pääosin kuolleita) Linkkejä — (Mostly dead) Links:
Uhren für die Modellzeit
[Carsten Möller]
www.zeigersprung.de
[H. Hannemann]
RUT - Ringleitung Uhrtakt und Telefon
[Klaus Richrath]
One Second Timebase.
[Jose Pino]
Arduino Fast Clock
[Bart Bakker]
---
Äskettäin löysin
Model Electronics Railway Group — MERG
jäsenten Technical Bulletinin A32/02 (R. Harris 2000) joka kuvailee samanlaisen kvartsikellon muokkauksen.
Not long ago I spotted Model Electronics Railway Group — MERG members only Technical Bulletin A32/02 by Mr R. Harris in 2000 describing identical modification of a quartz clock.